Milton & Odie and the Bigger-than-Bigmouth Bass (Hardcover)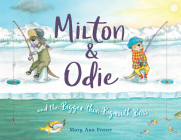 $16.99
On Our Shelves Now in Boise or Caldwell
Description
---
It's ice-fishing season for two very opposite otters. Pessimism, prepare to meet optimism!

On one side of a frozen lake, Odie imagines all the fish he'll catch today. On the other side of the lake, Milton is doubtful he'll catch anything at all. As each otter imagines what lurks--or doesn't lurk--under the ice, opposites attract, attitudes change, and a friendship is formed.
About the Author
---
Mary Ann Fraser is the author/illustrator of over sixty fiction and non-fiction books for children, including No Yeti Yet (Peter Pauper Press), Heebie-Jeebie-Jeebie Jamboree (Boyds Mills Press), the Ogg & Bob books (Two Lions) Ten Mile Day(Henry Holt), and several titles for The Let's Read-and-Find-Out series, including Where Are the Night Animals (HarperCollins). Her books have received a Junior Library Guild Selection, School Library Journal Best Book of the Year, Book Links Book of the Year, IRA Young Readers Choice Award, and American Booksellers "Pick of the List." When she is not writing, illustrating, or giving school presentations, she is painting murals, playing her hammered dulcimer, in her garden talking to her turtles, or reading.
Praise For…
---
Polar-opposite otters find camaraderie in this read-aloud. Grumpy Milton and exuberant Odie are two adorable anthropomorphic otters on parallel ice-fishing pursuits. Dressed in muted greens and grays, Milton finds negativity in the old boot he fishes out of the frozen lake, criticizes his bait, and is less than enthused about crossing paths with the cheery Odie when Milton's line tugs Odie's fishing pole out of the water. With an exuberant, red-and-yellow plaid coat and bright blue hat and mittens, Odie sees possibilities and positives as readily as Milton can find the downside in anything. From their meeting, they learn about teamwork and experience a sweet role reversal after some success. While the pair of otters represents a type of emotional binary, the gently repetitive events in the story could well start conversations about ranges of emotions. Warmth is established through images of happy fish swimming beneath Odie (those beneath Miles matches glum mien), Odie's genuine smile, and emphasized onomatopoeia. Large, unfussy black type creatively shifts to fill negative space or snowy white landscapes. Combine this with Grumpy Pants (2016) by Claire Messer or Bernice Gets Carried Away (2015) by Hannah E. Harrison for a trio of reads that can offer some giggles while exploring emotions and friendship. Sunnily earnest.
—Kirkus Reviews