Books that make you smile (and maybe laugh out loud)
A Mona Lisa Smile, a giggle, or a full blown belly laugh. The books that bring these reactions are treasured at my house, and I suspect at yours too.
Here is a smattering of these titles that we have at our store this season.

Big Panda Tiny Dragon by James Norbury
Everyone needs Big Panda and Tiny Dragon in their life. This book is sweet and thoughtful. It is beautifully illustrated and is full of the wisdom that we all need to move through the seasons. Hopefully, we get to move through them with friends as good as these.
— Rebecca G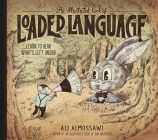 An Illustrated Book of Loaded Language: Learn to Hear What's Left Unsaid
By Ali Almossawi, Alejandro Giraldo
For many years we have been recommending the Book of Bad Arguments, and now Ali and Alejandro have brought us a new book to keep us in good humor, and better understanding. Slant, bias, gaslighting, passive voice and more are defined with humor and a wise old rabbit. A must for family gatherings, keeping up with the news, and at the end of the day. – Laura D

Finlay Donovan Is Killing It: A Mystery By Elle Cosimano
Finlay Donovan is a struggling single mother whose life is coming apart at the seams. When a conversation between her and her editor is overheard in a Panera, she is mistaken for a contract killer and hired to complete a hit... and the client will not take no for an answer. This story is a madcap comedy of errors that will have you cackling out loud as you race towards the ending. - Sam M

Mad About Meatloaf
By Maureen Fergus, Alexandra Bye
Weenie is a Weiner Dog with a sarcastic cat, a cute guinea pig, and a Bob for his best friends. Together they get into all sorts of crazy (mostly meatloaf related) hijinks. Their story is absolutely hilarious. The pictures alone will get you giggling out loud. Highly recommend for anyone looking for a good laugh. - Jacey A.

Small Things Like These by Claire Keegan
This book will touch your soul and fill your heart with hope as it illustrates how the action of one person can create great change. Everyone has it in their being to be a hero.
— Jane V.

Guards! Guards! By Terry Pratchett
OK, OK, so I'm late to the Discworld books. And after reading this I am really sorry it's taken so long. The cleverness and word-play is a delight. While the situation and world is completely crazy, bonkers, and wholly ridiculous, the characters (ok, yeah, they're pretty outlandish too) are a treat to behold. Pratchett's writing is crystal clear, wildly imaginative, and brilliantly funny. And now I have over forty more books to read. - Kevin L.