Brian Hodges - Cello Secrets
Saturday, February 16, 2019 - 11:00am to 1:00pm
Brian Hodges- Cello Secrets:
Over 100 Performance Strategies for the Advanced Cellist
Saturday, February 16, 11 a.m.
Cello Secrets explains over 100 of the most helpful insider tricks cellists use to master the instrument. With each technique carefully explained and illustrated, the book serves as an accessible textbook for all advanced cello players, from talented teenagers to college students, to conservatory pre-professionals. This book guides advanced students through technical maintenance and performance preparation, helping them beyond what can be covered in lessons. Co-written by Brian Hodges and Jo Nardolillo, these tips grow from extensive study of the art of high-level teaching with many of today's leading pedagogues, and have been developed into strategies, tricks, and techniques that are taught in masterclasses and seminars around the country. Cello Secrets contains all these ideas, clearly organized into a single book, and will have great value for private teachers and as a textbook in cello pedagogy courses. Professionals and skilled amateurs can use the text as a guidebook in improving their own skills.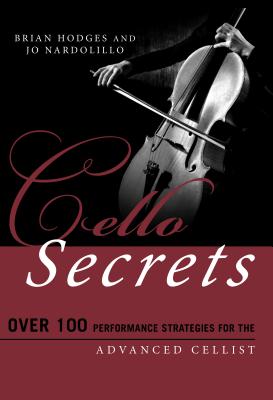 Brian Hodges, DMA is Associate Professor of Cello at Boise State University. He is principal cello of the Boise Baroque Chamber Orchestra and performs as part of Classical Revolution: Boise. He has performed and given masterclasses throughout the United States, Canada, Italy and Germany and is the co-author of Cello Secrets: Over 100 Performance Strategies for the Advanced Cellist and contributes regularly to The Strad magazine.

Email or call for price.
ISBN: 9781538102862
Availability: Usually Ships in 1-5 Days
Published: Rowman & Littlefield Publishers - June 8th, 2018
---