Courtney Smart - River Food: A Collection of Recipes from Idaho's Middle Fork and Main Salmon Rivers
Saturday, November 18, 2017 - 11:00am to 1:00pm
Meet Courtney Smart on Saturday, November 18 at 11 a.m.
We will have samples of the recipes featured in the book at this event!
River Food is more than a collection of recipes from the guides and outfitters of the Middle Fork and the Main Salmon rivers. It is a tribute to the many friends I have been blessed to cook amazing meals with during my career as an Idaho river guide. Sharing these recipes and food preparation tips is also my way of thanking the thousands of guests that have supported Idaho's outdoor guides and with whom we've shared Idaho's beauty. Meals enjoyed on a river trip can easily be recreated at home with a little guidance. River Food is perfect for planning your next river trip, camping adventure, or family dinner. Add it to your collection of go-to cookbooks for favorite recipes and inspiration
Courtney Smart grew up in her Mom's restaurant learning the art of fresh food. Often weekends were spent helping in her grandparents' kitchens and gardens. She fell in love with camping and Idaho whitewater while traveling with her Dad. Today, she and her husband Steve live in Ketchum, Idaho enjoying all the great outdoors has to offer. Courtney works as a guide to fishermen and rafters, as well as a private cook, with her specialty being outdoor cooking, of course.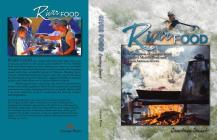 $20.00
ISBN: 9780870046155
Availability: Usually Ships in 1-5 Days
Published: Caxton Press - September 30th, 2017
---