Daniel Lee Henry- Across the Shaman's River
Thursday, November 8, 2018 - 7:00pm to 8:30pm
Daniel Lee Henry- Across the Shaman's River
Thursday, November 8, 7 p.m.
Across the Shaman's River is the story of one of Alaska's last Native American strongholds, a Tlingit community closed off for a century until a fateful encounter between a shaman, a preacher, and John Muir. Tucked in the corner of southeast Alaska, the Tlingits had successfully warded off the Anglo influences that had swept into other corners of the territory. This tribe was viewed by European and American outsiders as the last wild tribe and a frustrating impediment to access. Missionaries and prospectors alike had widely failed to bring the Tlingit into their power. Yet, when John Muir arrived in 1879, accompanied by a fiery preacher, it only took a speech about 'brotherhood'--and some encouragement from the revered local shaman Skandoo'o--to finally transform these 'hostile heathens.' Using Muir's original journal entries, as well as historic writings of explorers juxtaposed with insights from contemporary tribal descendants, Across the Shaman's River reveals how Muir's famous canoe journey changed the course of history and had profound consequences on the region's Native Americans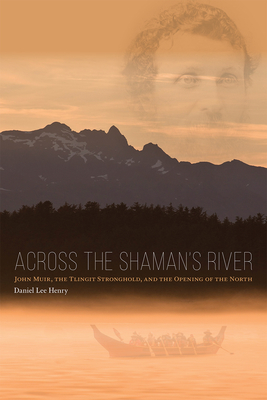 Adjunct professor of communication for University of Alaska Southeast-Sitka and Lane Community College, Eugene, Oregon, Daniel Lee Henry is a lifelong student of rhetoric and communication on the cultural fringe. He coached high school and university debaters over four decades, including University of Alaska debaters to the national championship in 2002. Henry is the founder of the Alaska Native Oratory Society, a statewide organization promoting Native American oral traditions in a performance-competition context. Since 1980 Henry's writings have appeared in many publications, including seven collections of literary essays like the Pushcart Book of Essays, Book of the Tongass, Traveler's Tales Alaska, and the forthcoming Cold Snaps: Literary Snapshots of Alaska (Univ. of Alaska 2010). Henry was awarded the Pushcart Prize for nonfiction in 2000 and earned a Pushcart Special Mention in 2004. Author, radio producer, dramaturge, teacher, and remote settler, Henry lives with his psychotherapist wife and twelve-year-old son on the roadless side of a bay near Haines.

Email or call for price.
ISBN: 9781602233294
Availability: Usually Ships in 1-5 Days
Published: University of Alaska Press - December 15th, 2017
---