Kelli Estes - Today We Go Home: A Novel
Thursday, September 26, 2019 - 7:00pm to 8:30pm
Spend an evening with Kelli Estes, author of Today We Go Home: A Novel, at Rediscovered Books.
Two women, separated by a century and a half, survive life in the United States military in Estes' suspenseful, neatly structured second novel.
Larkin Bennett has recently returned home to the state of Washington after a stint in Afghanistan, suffering from PTSD and mourning the death of her best friend and fellow soldier, Sarah. As she cleans out Sarah's storage locker, she discovers the diary that Sarah said inspired her to become a soldier. It belonged to Emily Wilson, who grew up on a farm in Indiana and, during the Civil War, changed her name to Jesse and posed as a man in order to join the Army. Estes (The Girl Who Wrote in Silk, 2015) moves smoothly between the stories of Larkin, who with the help of her grandmother and other friends and relatives begins to find her way back into civilian life, and Emily, who both faces the horrors of war and starts to recognize the freedom inherent in appearing to others as a man. Though it would have been easy to make Emily the more compelling character, Larkin's struggles with survivor's guilt and the day-to-day issues of recovering from war make her story just as riveting.
The novel brings the Civil War era to life and effectively links it to contemporary times.
Kelli Estes is the USA Today bestselling author of The Girl Who Wrote in Silk. Kelli grew up in the apple country of Washington State (Cowiche/Yakima) before attending Arizona State University. While she loved the desert, she quickly learned that she loves large bodies of water even more, so after graduation she moved to Seattle. Today she lives in a Seattle suburb (Woodinville) with her husband and two sons. When not writing or researching history, she loves traveling, hiking, and generally being outdoors.
Kelli will be signing books after the event.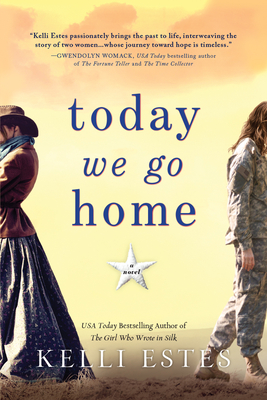 $15.99
ISBN: 9781492664185
Availability: On Our Shelves Now in Boise or Caldwell
Published: Sourcebooks Landmark - September 3rd, 2019
---