Kids Book Club - 24 Hours in Nowhere
Monday, January 21, 2019 - 4:00pm to 5:00pm
Kids Book Club - 24 Hours in Nowhere
by Dusti Bowling
Monday, January 21, 4 p.m.
Welcome to Nowhere, Arizona, the least livable town in the United States. For Gus, a bright 13-year-old with dreams of getting out and going to college, life there is made even worse by Bo Taylor, Nowhere's biggest, baddest bully. When Bo tries to force Gus to eat a dangerously spiny cactus, Rossi Scott, one of the best racers in Nowhere, comes to his rescue--but in return she has to give Bo her prized dirt bike. Determined to buy it back, Gus agrees to go searching for gold in Dead Frenchman Mine, joined by his old friends Jessie Navarro and Matthew Dufort, and Rossi herself. As they hunt for treasure, narrowly surviving everything from cave-ins to mountain lions, they bond over shared stories of how hard life in Nowhere is--and they realize this adventure just may be their way out.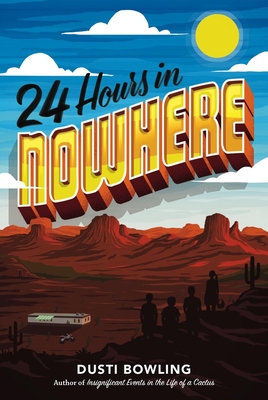 Dusti Bowling holds a Bachelor of Psychology and a Master of Education, but eventually realized that her true passion was writing. The author of the IndieNext pick Insignificant Events in the Life of a Cactus, she currently lives in Carefree, AZ, with her husband, three daughters, one bobcat, a pack of coyotes, a couple of chuckwallas, several rattlesnakes, and a few herds of javelina.

$14.95
ISBN: 9781454929246
Availability: Usually Ships in 1-5 Days
Published: Sterling Children's Books - September 4th, 2018
---