Thinking Boise Boise Schools Book Drive
Submitted by Rediscoveredstaff on Tue, 02/20/2018 - 3:02pm
We are working with Thinking Boise Real Estate, Idaho Central Credit Union and Alliance Title and Escrow to bring great nonfiction books into elementaries in the Boise School District.
Use Coupon Code: Thinking Boise to get 20% off and to mark that these books are for Boise Schools. Here's our list of great books that we would like to add into the schools:

Grand Canyon by Jason Chin
Home to an astonishing variety of plants and animals that have lived and evolved within its walls for millennia, the Grand Canyon is much more than just a hole in the ground. Follow a father and daughter as they make their way through the cavernous wonder, discovering life both present and past.

Where the Animals Go by James Cheshire
For thousands of years, tracking animals meant following footprints. Now satellites, drones, camera traps, cellphone networks, and accelerometers reveal the natural world as never before. Where the Animals Gois the first book to offer a comprehensive, data-driven portrait of how creatures like ants, otters, owls, turtles, and sharks navigate the world. These astonishing infographics explain how warblers detect incoming storms using sonic vibrations, how baboons make decisions, and why storks prefer garbage dumps to wild forage; they follow pythons racing through the Everglades, a lovelorn wolf traversing the Alps, and humpback whales visiting undersea mountains.

Massively Epic Engineering Disasters by Sean Connolly
It's hands-on science with a capital "E"--for engineering.

Beginning with the toppling of the Colossus of Rhodes, one of the seven wonders of the ancient world, to the destructive, laserlike sunbeams bouncing off London's infamous "Fryscraper" in 2013, here is an illustrated tour of the greatest engineering disasters in history, from the bestselling author of The Book of Totally Irresponsible Science.
Oliver Jeffers, arguably the most influential creator of picture books today, offers a rare personal look inside his own hopes and wishes for his child--and in doing so gifts children and parents everywhere with a gently sweet and humorous missive about our world and those who call it home.

Professor Astro Cat Frontiers of Space by Dominic Walliman
Professor Astro Cat is the smartest cat in the alley. He's got a degree in just about every discipline under the sun
Speaking of the sun, he happens to be specialist on that too, and Professor Astro Cat's Frontiers of Spacewill tell you everything that there could be to know about our star, our planet, our solar system, our galaxy, and our universe. The professor's made sure of that; he's a fastidious little feline
Professor Astro Cat's Frontiers of Space also explores topics such as gravity, extraterrestrial life, time, and many other fascinating subjects that will take you and your children on a journey to the very frontiers of space

Little People Big Dreams Ella Fitzgerald by Isabel Vegara
Meet Ella Fitzgerald, one of the most influential jazz singers of all time New in the Little People, Big Dreams series, this inspiring and informative little biography follows the inspirational life of the First Lady of Song, from her early singing days on the streets of Harlem, to her success as a jazz legend, with the message: 'It's not where you come from, but where you're going that counts.'
In this fascinating and fun take on nonfiction, Dave Eggers and Shawn Harris investigate a seemingly small trait of America's most emblematic statue. What they find is about more than history, more than art. What they find in the Statue of Liberty's right foot is the powerful message of acceptance that is essential of an entire country's creation.
I'm Just Not Good at Rhyming by Chris Harris

How to Be an Elephant by Katherine Roy
An infant elephant has precious little time to learn the incredible array of skills that are necessary to keep up, from projecting her voice across a 10-octave range to using the 100,000 muscles in her trunk to stay hydrated. But this giant-to-be has the perfect classroom--a family herd made up of her mother, sisters, cousins, and aunts. With their help and protection, she'll learn how to survive, how to thrive, and how to be an elephant.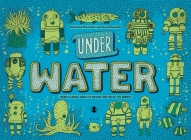 Under Water/Under Earth by Aleksandra Mizielinska
Hundreds of fascinating facts are waiting to be unearthed in this latest book from Aleksandra Mizielinska and Daniel Mizielinski, the creative duo behind the best-selling Maps. Dive below the surface and find out what happens under earth and under sea--from early submarines and deep-sea life to burrowing animals and man-made tunnels. You will never look at the world in the same way again Gorgeous design and quirky illustrations make this a book to be pored over again and again.